Wow, what a week.
I remember having a lot of fun last time around, but 2016 Trials were another monster entirely. I made a bunch of new swimming friends, and reconnected with old ones. I met an unearthly amount of Olympians. I saw old Olympians get squashed by new ones. I saw Nathan Adrain and Tony Ervin go 1-2 in the 50 free, separated by .01 seconds.
I came in 55th, the highest ranked of any OC swimmer, beating out all my friends in the race, ending 2nd in my heat with a time of 23.11s. My friend Colin and I even recorded a rap in the hotel room about speedos, which was hilarious and super fun. I wore my epic party shirt to the blocks and my purple vapor suit.
There's so much to say. I can't possibly recap it all, but sum it up: unbelievably inspiring.
To be included in the group with all the old Olympians—to chat with Lezak, Ervin, Adam Mania, Clark Burkle, makes me want those rings more than anything else I've ever wanted. More than magic fame.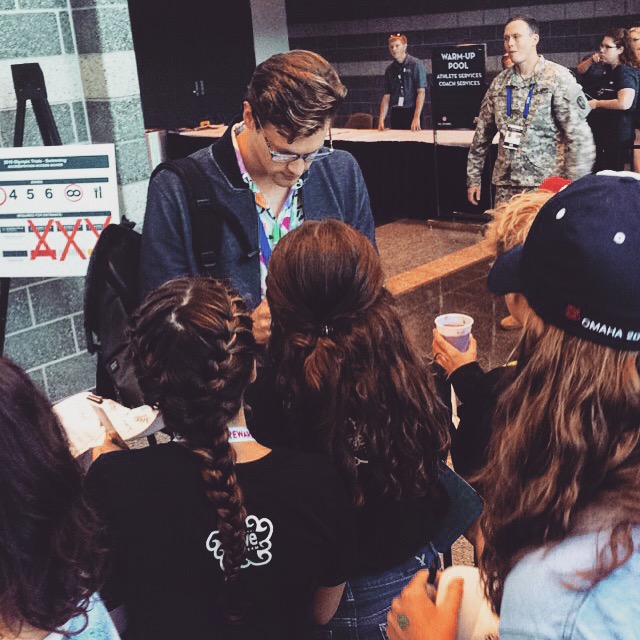 In this moment, I want that god damned glory so badly it burns. Is it possible? Is 2020 my year?
Probably not. These feelings will fade. But right now, the competitive itch burns white hot.
The truth is, I've left so much on the table in the sport. I have, for my entire career, relied on talent instead of ethic. I mean, look at what I did in the past two months: I trained ~5 hours/week and dropped a HALF SECOND in the 50 off my best time, qualifying for the Olympic Trials. And then I came in 55th! If I dropped another half second I would be top 20. And that would be so easy. If I just trained, I could do it. Work on my start and lift weights making myself stronger. I could easily drop that time.
But it's not so simple.
55th in the country?! That's insane.
What's really insane is how intoxicating elite-level sports can be. Knowing that you're one of the best in the country just fuels you to try harder and harder. It makes it impossible to give up; it's an addiction to the dream of Olympic glory.
Goodness, the intensity of walking down the tunnel below the pool, waiting to step up to the blocks as we hear heat after heat go—it was like waiting for the running with the bulls. It was insane.
It was like a drug—every moment had so much significance. Instead of the mind turning off, it was on overdrive. Every step, moment of waiting, the fear, excitement, and anticipation all wrapped up in a knot in the pit of your stomach.
I think there's a simple reason I was intoxicated by Olympic trials. Everyone there had worked so hard to get there and the experience of watching the results and feeling the electric energy in the air of the pursuit to literally be the best in the world at something so simple was beautiful in a way that is so lacking in our everyday lives. Our lives are so muddled. Goals require so much more complicated steps to accomplish, and collaboration, and luck, and chance. With swimming and other athletics, it's simple. Train. Practice. Over and over, until you succeed.
Life is rarely that simple.